---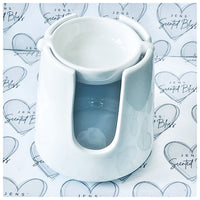 Brand new for Summer 2023 is the stunning Oxford wax burner. Tall and slim, with a separate dish making it easy to change your wax. The dish on top has 2 little handles which fit perfectly into the grooves at the top of the burners body. Simple and elegant, Oxford is a must have to scent your home this Spring.
We highly recommend using only one cube or a small amount of wax inn Oxford as the dish on top can tilt slightly due to the design of the handles and this will prevent any melted wax spilling out.
Comes in gloss white or a gloss marble finish. Please be aware that the marble is extremely subtle (not an evenly distributed pattern) and each one is different to the next due to the individual hand finishing.